From Mobilize the Immigrant Vote!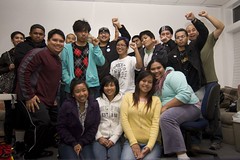 The Stage
Filipinos number over 1.1 million in California, are predominantly foreign born, and have the second highest rate of naturalization after Mexicans. 900,000 Filipnos are of voting age in California, and, in some cities such as Union City, comprise as much as 13% of the electorate. As of the 2007 American Community Survey (ACS), Filipinos constituted the largest Asian ethnic group in California. According to Grantmakers Concerned with Immigrants and Refugees (GCIR), 90% of Asian children in California ages 12-17 have an immigrant parent and "As a result, young Asian-American voters are likely to have interest in policies that address the challenges of the immigrant experience."
Since 1973, Filipino Advocates for Justice, formerly known as Filipinos for Affirmative Action, has been working for greater justice and equality. In the spirit of Bayanihan, the vision of Filipino Advocates for Justice is to foster a Filipino community with the power to advance social and economic justice, and to realize democratic and human rights for everyone. Their mission is to build a strong and empowered Filipino community by organizing constituents, developing leaders, providing services, and advocating for policies that promote social and economic justice and equity for all.
Filipinos Advocates for Justice has had a long history in the immigrant rights movement and a commitment to leadership development, particularly among youth. They run youth development programs in Oakland and Unity City, where for years, youth and community organizers have advocated for youth violence prevention and safe afterschool services amidst increasing levels of youth involved in homicides and violence. In 2008, Filipino Advocates for Justice worked in coalition with youth leaders across the two cities to pass critical youth rights, anti-violence measures, Measure OO in Oakland and Measure UU in Union City. Filipino Advocates for Justice had the ability to create their own voter lists, identify and contact Filipino voters directly and use the online voter data interface, the Voter Activation Network (VAN). They focused on mobilizing the 5,000 Filipino voters in the two cities. On November 4, 2008, youth organizations across the Bay Area celebrated the passage of Measure OO and Measure UU. In Union City, 72% of voters passed Measure UU (Union City's Public Safety Initiative), providing $4 million over eight years for proven strategies to reduce youth violence including street outreach workers, bilingual counseling and job skills training. In Oakland; 80,000 voters passed Measure OO which would fund after school programs that serve youth through leadership development, academic support, and community organizing. These after school programs have successfully kept children and youth off the streets by offering resources and opportunities to the community. Yet, as is the case with most victories, the hard work had just begun.
The 2009 Victory: Continuing the Work of 2008
In 2009, the Oakland City Council attempted to repeal Measure OO, or undermine the spirit of it, by limiting the dollar amount that would go to the intended purpose. They used the City's financial crisis to argue for re-directing funds generated by Measure OO to other city needs. On March 3, 2009, the Oakland City Council met to discuss repeal. Over fifty youth from AYPAL, more than twenty youth from the East Bay Asian Youth Center (EBAYC), and many other supported including parents, elementary school students, and community members gathered to defend OO from attack. They were successful in protecting the majority of the funding. Without permanent grassroots infrastructure and Asian voters and grassroots leaders poised to defend their November 2008 ballot victory, Measure OO would certainly have been drained of its potential and the electoral victory would have been lost. Instead, Filipino Advocates for Justice continues to defend the victories of Measure OO and Measure UU. Their youth leaders sit on city advisory committees, monitor the city council meetings, and are laying the groundwork for future ballot victories.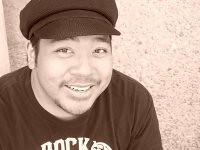 Profile of a Grassroots Leader: Daniel Banatao
Daniel Banatao led volunteers by chaperoning and coordinating youth precinct walker teams for Filipino Advocates for Justice. His upbeat and humorous personality energized youth volunteers, who embraced Mr. Banatao has a mentor. Leaders like Daniel Banatao make victories such as Measure OO and Measure UU possible.
Best Practices
Targeting: since many Filipinos have Spanish last names, it has been historically difficult to identify Filipino voters. In 2008, Filipino Advocates for Justice worked with MIV and California VoterConnect to identify voters by place of birth and identified voters who lived in households with Fillipino-born voters as having a high likelihood of being Filipino voters.
Coalition-building: for both victories, Filipino Advocates for Justice worked in coalition, without which the victories would not have been won. The critical coalitions were the Kids First 2 Coalition in Oakland and the Youth Violence Prevention Coalition in Union City.
Dedicating resources to defend victories: Filipno Advocates for Justice was prepared to dedicate resources to defend their 2008 ballot box victories and continue year-round monitoring of the initiatives' implementation. Without this foresight and commitment, Oakland and Union City communities would never have send the fruit of their voter on November 4th and would have been at risk at adopting the worldview that "my vote doesn't make a difference."
What's Ahead
Filipino Advocates for Justice is working with Filipino organizations across California to build on their lessons learned and work with Mobilize the Immigrant Vote to build a statewide Filipino voter engagement network. Their goal is to unite all of the key voter lists being used to target Filipino voters in the state.
For more information about Filipino Advocates for Justice, contact Lillian Galedo at [email protected] or 510-465-9876 x308.
3 Responses to "Effective Defense of Ballot Victories: Filipino Youth and Voter Leadership in Oakland and Union City"
2009 Case Studies on Integrated Voter Engagement - Mobilize the Immigrant Vote! Says:
February 8th, 2010 at 2:44 am

[...] Effective Defense of Ballot Victories: Filipino Youth and Voter Leadership in Oakland and Union City [...]

Effective Defense of Ballot Victories: Filipino Youth and Voter Leadership in Oakland and Union City « a place of salt Says:
February 10th, 2010 at 10:49 pm

[...] Effective Defense of Ballot Victories: Filipino Youth and Voter Leadership in Oakland and Union City Published February 10, 2010 Uncategorized Leave a Comment http://mivcalifornia.org/blog/36 [...]

MIV's Strategic Direction and February 2010 Updates - Mobilize the Immigrant Vote! Says:
February 13th, 2010 at 11:14 am

[...] Effective Defense of Ballot Victories: Filipino Youth and Voter Leadership in Oakland and Union City [...]
Leave a Reply